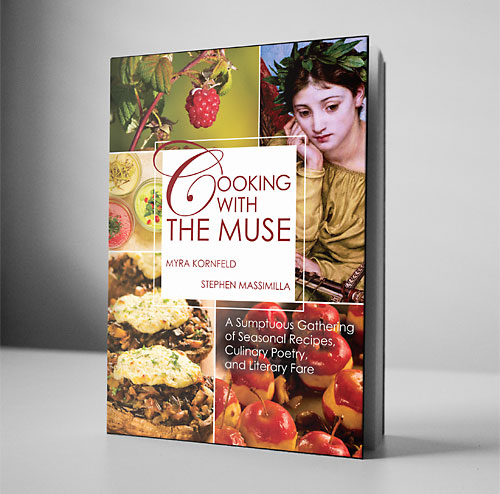 ---
ORDER TODAY
---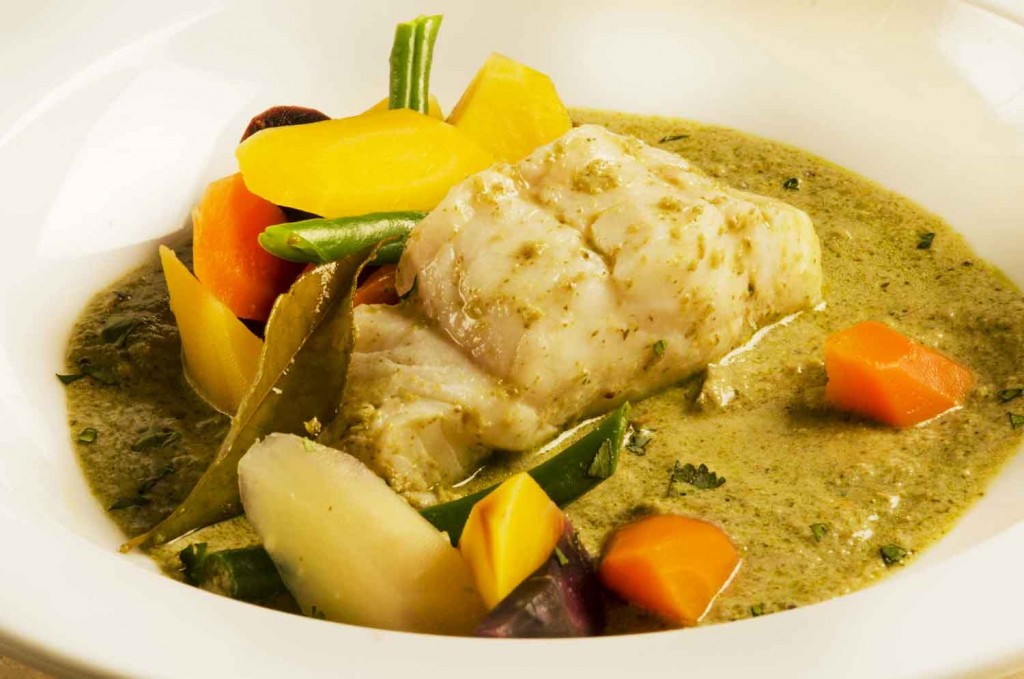 Goan Green Coconut Fish Curry
This creamy green curry is thickened with freshly grated coconut and flavored with garlic, chiles, coriander, and curry leaves. The cilantro turns the sauce tropical green, and the tamarind lends a fruity sour savor. Every spoonful soothes your entire mouth and feeds your hunger for earthly blessings.
This exotic dish comes together very quickly, but it takes a little bit of planning to make sure you have fresh curry leaves (available at any Indian grocery or online). When the leaves—which are an herb, and not to be mistaken for the blend of spices known as "curry"— are sizzled in hot oil, they give off an irresistible citrus fragrance. Fresh coconut freezes beautifully, so look for bags of frozen coconut (a staple in Indian cooking) in the freezer section at your local market.
Cardamom-laced basmati rice and steamed vegetables make excellent accompaniments to this dish.
_
Serves 4
1 1/2 cups grated coconut (preferably freshly grated; thawed if frozen)
1 or 2 serrano chiles (use the larger amount for more heat), stems removed
5 garlic cloves, peeled
1 cup (tightly packed) chopped fresh cilantro, plus 1/4 cup for garnish
Pinch of cayenne pepper
1 tablespoon ground coriander
3 tablespoons coconut oil (virgin or aroma-free)
1 teaspoon mustard seeds
8 to 10 fresh curry leaves
1/2 cup thin sauté-sliced onion (page 000)
1 (13.5-ounce) can unsweetened coconut milk
1 teaspoon salt
1 teaspoon tamarind concentrate
4 (6-ounce) pieces cod, salmon, halibut, pollock, or other thick white-fleshed fish
1. Place the coconut, chiles, garlic, cilantro, cayenne, and coriander in a food processor. Whirl with up to 1/2 cup water as needed, to make a smooth paste.
2. Heat the oil over medium-high heat in a large straight-sided skillet. Add the mustard seeds and cover immediately, since they will splatter. After about 30 seconds, when the seeds begin start to turn gray, add the curry leaves and onions. Stirring constantly, sauté until the onions are translucent, about 3 minutes.
3. Stir in the fragrant coconut-herb paste; sauté over high heat, stirring frequently to avoid burning. Cook for 5 to 6 minutes, until all the moisture from the paste evaporates.
4. Whisk in the coconut milk and 1 cup water to combine. When the curry comes to a boil, add the salt. Reduce the heat to medium-low, cover, and simmer for 15 to 20 minutes to allow the flavors to meld.
5. Stir in the tamarind; cook for another 2 to 3 minutes. The curry sauce can be prepared up to this point a day ahead and refrigerated.
6. When you're ready to serve, heat the curry sauce to a gentle simmer over medium heat. Add the fish. Cover and cook until the fish is opaque and cooked through (for salmon, cook until there is a little pink in the center), about 5 minutes.
7. Serve the fish hot, in a pool of sauce, with some draped over the fish. Sprinkle with the chopped cilantro.
Cook's Note
Keep curry leaves refrigerated for up to a week and frozen for up to 1 month.
Poet's Note
A curry is any Indian dish that has a sauce richly seasoned with pungent spices. Therefore, a curry may or may not contain "curry leaves" or "curry powder." Regional cultural context, religious practice, and long family traditions all play roles in the composition of a curry: Spices and chiles can be any combination of whole, ground, cooked, and raw. This one is a curry of Goa, a coastal region of India. Goan cuisine as a whole is quite distinct because, first of all, it almost always includes fish. Second, it is richly developed because Goa contains one of the most important ports through which the Portuguese traded everything to and from the West. Seized during the age of exploration, it remained in Portuguese hands right up until the 20th century. It is interesting that the most important ingredient in Goan cuisine, the chile, was introduced by the Portuguese. Other aspects of Goan cuisine are uniquely Hindu, such as the use of jaggery (a natural evaporated cane sugar), as referred to in the introduction ot the book and in the poem "All of Creation."
_
ALL OF CREATION
When I look at you, I think of mealtime
I.
In a garish video reenactment of Hindu scripture
the excessive actress peers into the boy's open mouth:
Krishna's mother discovers the Earth, impossibly fast, where
His uvula should be. She faints; He strokes her face to wake her.
Inside His mouth, an Indian child bends over an Indian woman.
As a child, I worry I am Lord Krishna. Divine, motherless.
II.
"I wouldn't ever want to live in a world without garlic,"
my mother says. And indeed it would be unacceptable,
after joining the Earth's edges and baptizing all the natives,
for cinnamon, cloves, and jaggery that now turns to gur at
my parents' table and melts slowly on the tip of the tongue.
The secret of recipes is also the love made after dinners.
III.
Inside my own mouth, our dining room window faces the sky.
The smell of garlic will stay on my fingers for many years.
Inside this green cardamom I am holding to your lips,
I hold another, future green cardamom to your lips.
Inside your enormous eyes, my reflection and its double.
We sit down to have green curry, and decide to say grace.
---
— Mrigaa Sethi —
CHECK BACK LATER FOR OTHER SEASONAL OFFERINGS