Steeped: Recipes Infused with Tea
by Annelies Zijderveld
Kansas City, MO: Andrews McMeal Publishing, 2015
review by Myra Kornfeld and Stephen Massimilla
What an exciting book we have to share with you today. Steeped, by Annelies Zijderveld, is chock full of innovative recipes that explore the full potential of cooking with tea. Annelies is both a cook and a poet (and her website is thefoodpoet.com), so we knew this striking rose-and-gold-covered volume would be up our alley. In fact, the book contains occasional snippets of poetry. The contents move from a "Tea Primer" that references literary, cultural, definitional, and other interesting matters to a "Tea Cooking Cabinet" that enumerates the virtues of a range of teas and tisanes to a section on methodologies to a veritable rainbow of recipes metaphorically spanning the day, from chapters with such titles as "Morning Tea" (essentially breakfast items) on through "Midday Tea" and "Afternoon Tea" to "High Tea" and "Sweet Tea" (dessert items). Each section is subdivided to cover (for instance) "Bites, "Side Dishes," "Baked" items, "Cold" items, "Comfort" items, and so on. There are also useful sections, including Resources and an Index, in the back. And the book is full of lovely, well-styled photographs.
We've been hankering to make these tea dishes for months. We picked out a few delectable-sounding ones that called for teas that we regularly stock. We settled on recipes with English Breakfast tea, matcha, and lapsang souchong. (Stephen is a big black tea aficionado, and Myra gravitates towards the green. We both love spicy chai masalas, but we're saving the chai-inspired cooking for another day.)
In preparation for our inspired marathon of tea recipes, we'd returned to Annelies's starting question: "What would it look like to invite tea into every meal of the day?"
We made five recipes that we anticipated would see us through such a day. We were looking forward to something satisfying and singular for breakfast, lunch, dinner, and dessert. These selections ranged from a very novel kind of breakfast smoothie to a more sophisticated version of a lunch favorite to a dessert that honors tea in the whole new context of a creamy, fruity pudding.
We knew we wanted to start with the "Blueberry Black Tea Smoothie" (from the subsection on drinks and parfaits in the "Morning Tea" chapter). For a bit of prep, we boiled a couple of beets at night, peeled them and had them ready. In the morning, Myra brewed some strong English Breakfast tea (having cut the recipe portion in half since it was for her alone) and let it cool. The next step involved mixing the tea with a few other ingredients. The recipe featured beets and blueberries, an ingenious combination with a spectacularly rich deep blood color. The beet flavor is tempered by the fruit (there's also a hint of banana and cranberry juice), and the earthy black tea adds depth and zip. We shared a little more than a glass of this smoothie. What an original and delectable way to eat beets!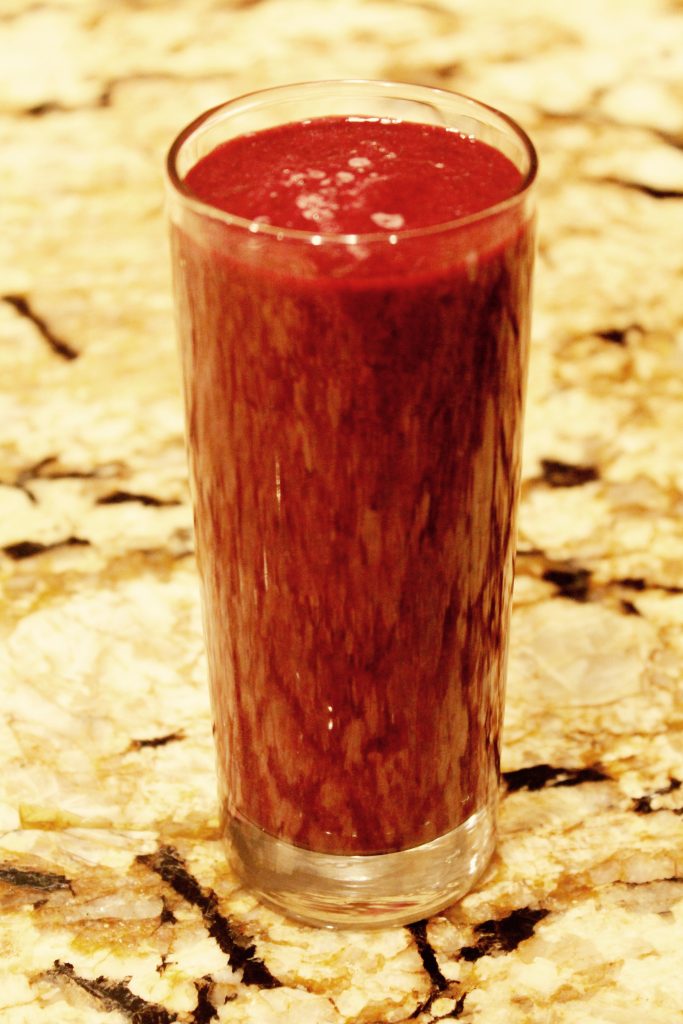 Another great breakfast dish (technically from the "Bites" subsection of the "Afternoon Tea" chapter) was the "Green Tea Guacamole with Grapefruit Tea Toast." There is a lot to be said for getting out of the same old guacamole-making-and-eating rut. This version makes for a delightful (dare we say tea-licious?) break from the smashed avocado that's on every restaurant menu (avocado toast). The matcha tea, which is grassy and virescent, lent an exotic but complementary flair to the avocado. The addition of minced kumquats (!) and a few other ingredients imparted accents of acidity, pungency, and heat. This was and is a truly memorable guacamole.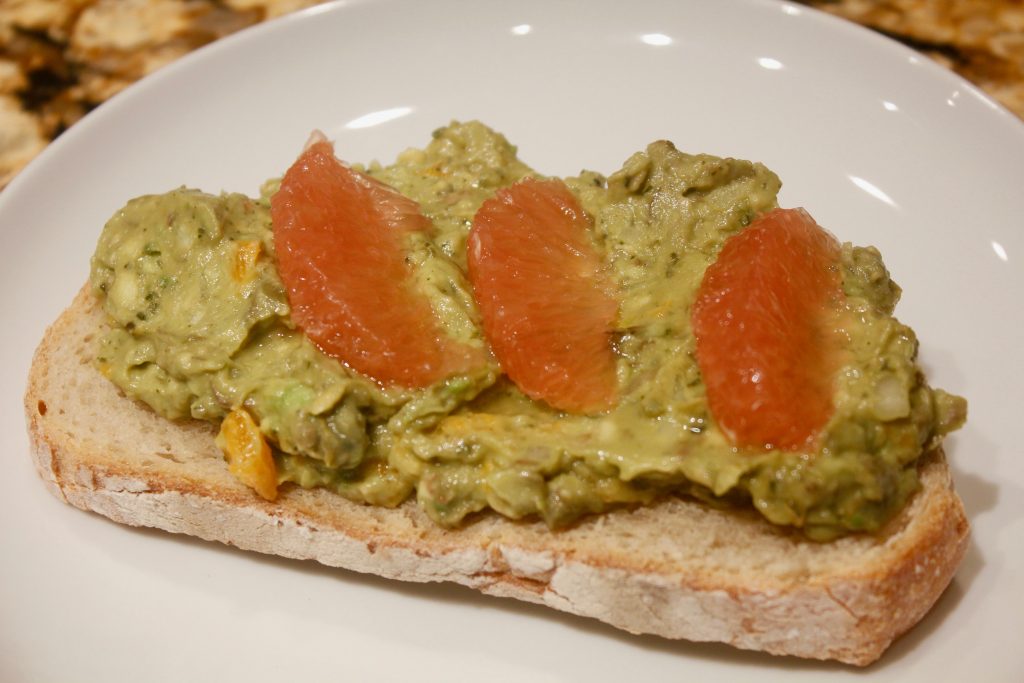 For lunch proper, we had "Berta's Egg Salad Sandwiches" (named after Annelies's aunt Berta) made with mayonnaise with lapsang souchong tea. We're fans of homemade mayonnaise, so this one was a natural pick. We believe we honored this recipe by sourcing our eggs from our local farmer's market. The bright yellow yolks were resplendent. But as you may have noticed, people are often adamant about how they like their eggs. We admit to taking a bit of culinary and poetic license: Annelies swears by grating the eggs, but we diced them instead. In any event, the creamy consistency of the mayonnaise took on a whole new level of sophistication with the admixture of the smoky tea and smoky tea salt.
We put our egg salad on a thick piece of sourdough instead of the aptly recommended challah simply because we didn't have challah on hand, but we are happy to report that our lunch was exciting and gratifying. Annelies points out that lapsang souchong may be the most useful tea to work with in the kitchen, and we agree. It makes for a wonderful way to infuse a gentle touch of smoky flavor into all kinds of dishes. By the way, we also served Berta's Egg Salad to someone named Berta, who was quite excited about the sandwich.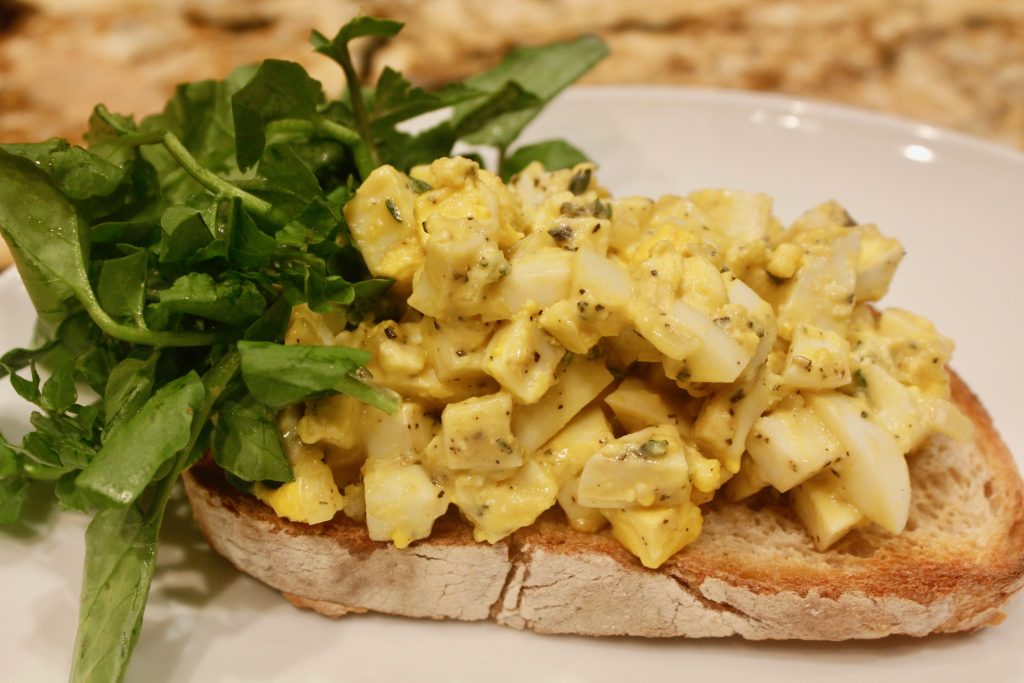 The next dish we made, the "Cauliflower Steaks with Tea Umami Sauce," was a stunner. This recipe from the "High Tea" chapter also called for lapsong souchong—in the tahini sauce that accompanied the steaks. The cauliflower is first seared, then finished in the oven for a quick and perfect browning, and next sprinkled with sumac at the end for a tart, slightly citrusy finishing note. We paired the cauliflower with a few other dishes, but this one clearly took center stage.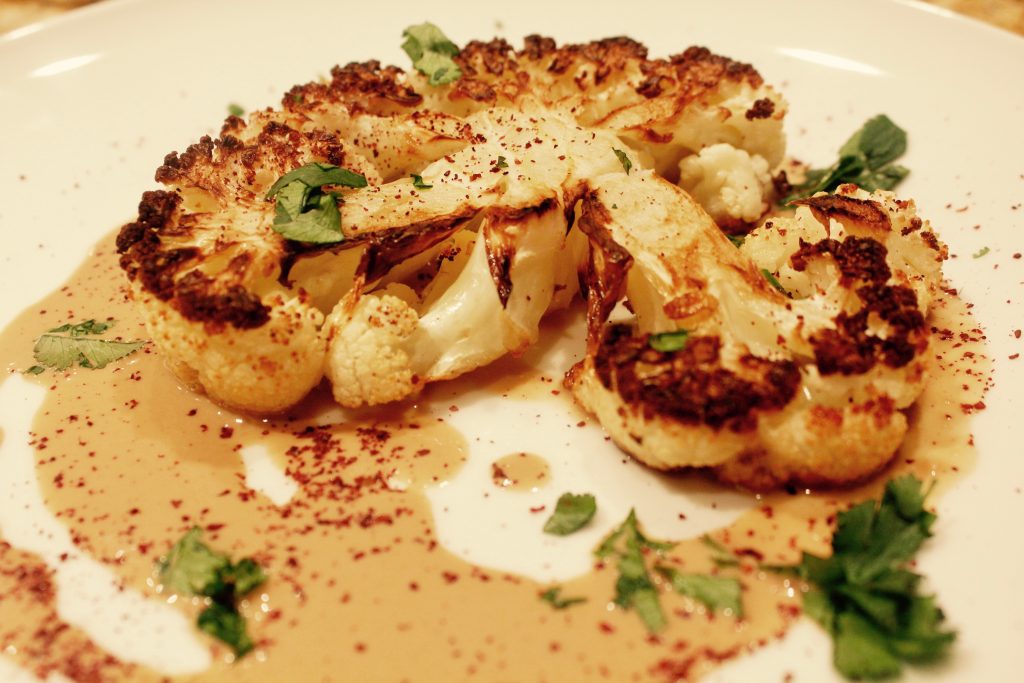 For dessert, we returned to the matcha by opting for the "Chia Pudding Parfait." As Annelies points out, "Japanese matcha takes the prize for the most exceptional tea." The creamy filling, which features yogurt mixed with the tea and chia seeds, is left to gel for five or more hours. That's why this one had to be prepped in the morning. Annelies recommends layering the creamy pudding with raspberries and peaches; but since we made this in the dead of winter, we took the liberty of pairing the pudding with frozen blueberries and strawberries. The berries complemented the matcha-infused cream very well. (Another alternative at this time of year could involve swapping out the peach and raspberry in the parfaits for mango and coconut.) That said, we're still looking forward to summer, when we can make it with fresh summer fruit.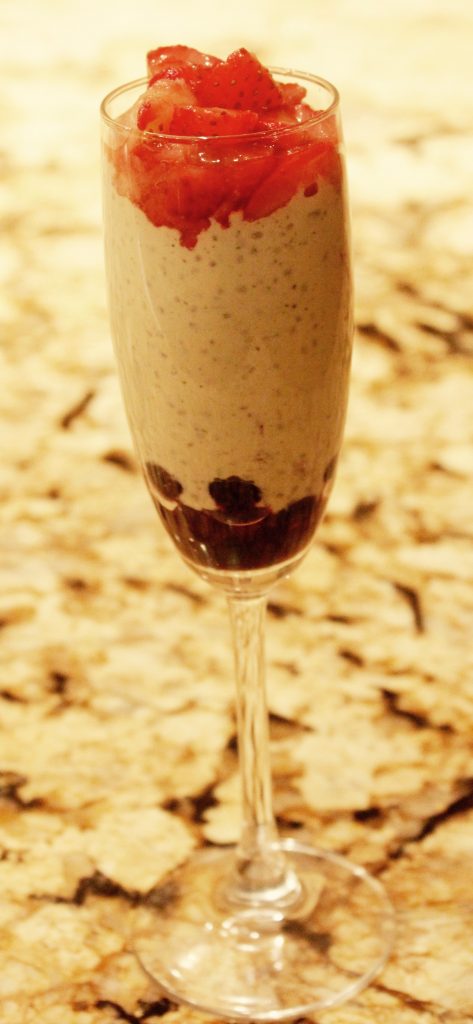 This little sampling is not the least bit exhaustive. We plan on continuing to cook our way through the book and will soon, for instance, be making the "Twice-baked Garnet Yams with Chai Yogurt."
What an exciting day of tea-inspired and tea-infused dishes! It restored our culinary mojo and added a whole new dimension to our tea appreciation. We leave you for now with these lines from a poem translated from the Japanese, words of sensual wisdom that Annelies includes in Steeped:
Let us dream of evanescence and
Linger in the beautiful foolishness of things
 -Okakura Kakuzo