Cooking with the Muse at GRIFFIN
August 27th, 5:00 p.m. – 6:30 p.m.
165 Main Street Great Barrington, MA 01230
Free and Open to the Public!
Click on Image: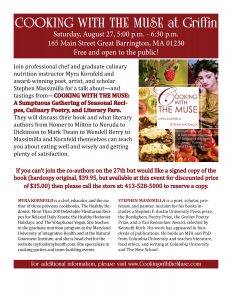 Join professional chef and graduate culinary nutrition instructor Myra Kornfeld and award-winning poet, artist, and scholars Stephen Massimilla for a talk about–and tastings from–Cooking with the Muse: A Sumptuous Gathering of Seasonal Recipes, Culinary Poetry, and Literary Fare. They will discuss their book and what literally authors from Homer to Milton to Neruda to Dickinson to Mark Twain to Wendell Berry to Massimilla and Kornfeld themselves can teach you about eating well and wisely and getting plenty of satisfaction.