CLICK on the link to see the article: Gluten Free and More
Shaved Asparagus & Mad-for-Greens Salad with Gluten-Free Orange Blossom Vinaigrette
SERVES 6
Shaved, the asparagus breaks free of its conventional identity, becoming another exotic leaf, one that can be dressed raw. It adds a playful, chewy texture as well as earthy taste to the complex array of flavors in this salad. If you can't find this crazy, eclectic mixture of greens, use a combination of peppery arugula, watercress and fresh herbs, such as sorrel and basil, or other fresh young lettuces. Orange blossom water adds a flowery, aromatic buzz. If you can't find it, use orange juice instead.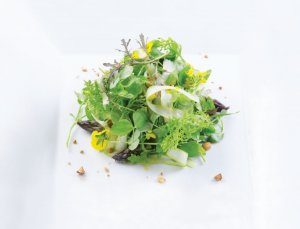 Gluten-Free Poached Chicken Salad with Sugar Snap Peas and Radishes
SERVES 4
SERVES 4
This is one tasty salad. It highlights the refreshing combination of succulent chicken and light crunchy vegetables. Sugar snaps, tarragon, capers, celery and radishes add flavor, life and crunch to this salad. The sorrel is optional but lends a delicate lemony flavor. This salad refrigerates well, is very tasty at room temperature and always makes a satisfying lunch. It can be assembled a day ahead; stir in the lemon and balsamic vinegar on the same day you serve the salad.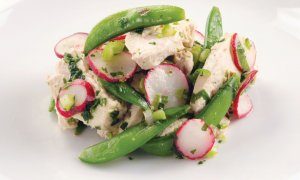 Gluten-Free, Dairy-Free Cantaloupe-Tomato Salad with Olives, Ricotta & Basil Vinaigrette
SERVES 4
SERVES 4
Prepare to be refreshed and surprised. This is the juiciest, most quenching summer salad you've ever encountered. When cantaloupe is ripe and sweet, a spritz of citrus is the only enhancement that may come to mind. You may be surprised, then, at how well this sweet melon pairs with ripe heirloom tomatoes, such as speckled Roman, complemented by lemon, olive oil and a touch of mustard in the basil vinaigrette. Bush basil, with its precious little leaves and intense basil flavor, is delectable with melon.
 
Recipes excerpted from Cooking with the Muse: A Sumptuous Gathering of Seasonal Recipes, Culinary Poetry, and Literary Fare, published by Tupelo Press, copyright 2016 Myra Kornfeld and Stephen Massimilla. Used with permission. Photography by Michael Grimaldi.