Spring Bone Broth for Radiant Health
May 12th, 6:30-9:00 PM
48 W. 21st St. 2nd Floor
Slow-cooked bone broths are the gold standard of stocks, both for their health benefits and intense flavor. Myra's latest (co-authored) book, Cooking with the Muse, highlights these broths, which provide gelatin (collagen), cartilage and marrow (for minerals): all essential for the health of the gut and the immune system, and for strong bones, vibrant hair, and radiant skin. In this class, we will go over the ins and outs of chicken bone broth while making delectable dishes—with the gorgeous vegetable bounty of the spring harvest— in which bone broth is a fundamental ingredient.
Collagen-Rich Chicken Bone Broth
Artichokes alla Romana
Spring Greens Soup with Tarragon Dill Butter
Spring Pea and Fava Bean Risotto (whole grain) with Snow Pea Shoot Salad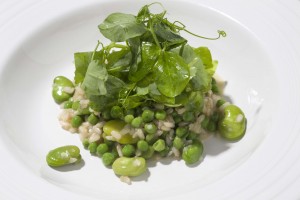 Poached Chicken Salad with Sugar Snap Peas and Radishes
Pastured Roasted Leg of Lamb with Herbed Salsa
and Spring Vegetable Mélange (with asparagus, fiddlehead ferns, sugar snaps, and ramps)
Rhubarb-Strawberry Compote Parfait
All animal food is pasture raised. The class is hands on. Gluten free.